Medium
North Dakota values its bidders and contractors. Businesses provide the goods and services needed by agencies and institutions. 
Bidders List
State law requires the Office of Management and Budget (OMB) to maintain a list of persons and businesses that desire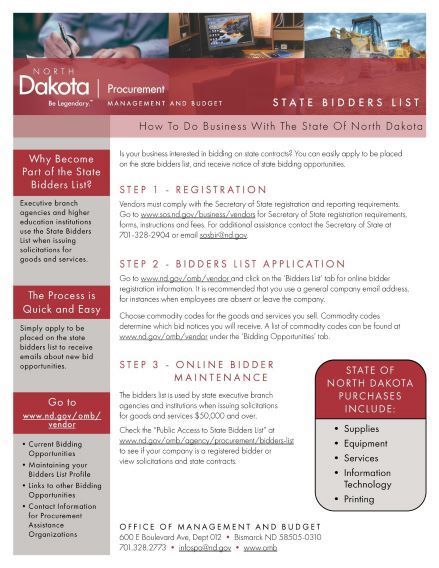 to provide commodities and services to the state. The Bidders List is part of State Procurement Office (SPO) Online system.
Contact the State Procurement Help Desk or 701.328.2740 with assistance using the Bidders List and SPO Online.
State Procurement Online (SPO)
State law requires OMB to maintain a procurement information website that provides current information regarding North Dakota government procurement opportunities of commodities and services. State law also requires OMB to maintain a bidders list of vendors that desire to bid or submit proposals on contracts for goods and services. Purchasing thresholds for competition requirements determine when state agencies and institutions must use SPO Online.
Use SPO Online to post your solicitations or view bidders.
Use your NDGOV username and password to login. 
State or Higher Education employees without an NDGOV account need to use a State of North Dakota account to login.
Other Bidding Opportunities